About The Author -
Samson Itoje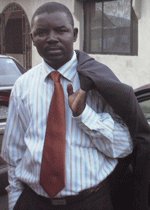 My name is Samson Itoje. I am the author of this site and a number of other web sites.
My greatest passion is working with people to resolve any problems they have. I hate to see people bugged down by issues. I like to see a smile on people's faces as I interact with them. I stretch out my hand to help when that all-important smile is missing.
What is the value of a smile?


People generally put forth a smile when they see a friend if there is something to smile about. A dejected face is a sign of a disturbed soul. And a disturbed or distressed soul does not add value to society. In fact, if unchecked, a disenchanted soul can become a menace to society.
My desire to help led me to build my love relationship site . . . http://www.true-love-relationship-advice.com
That web site was built in January 2006. Since then, it has been a consolation to thousands of people worldwide. Men and women searching for true love have been equipped to find their dream partner.
Those suffering from a broken heart have received help to deal with their situation. And many have moved on and now are happier than they ever imagined.
Yes, I love helping people. My greatest desire is to help people succeed at what they do. So, you could say I'm a people person. I enjoy good interpersonal relationship with people of all sorts wherever I go. And this has proved invaluable in every endeavour I engage in.
That brings me to why I built this site.
Why I Built This Web Site
I'm a management expert. I have spent the last eleven years in management position in a multi-national beverage manufacturing company with roots in the UK. I rose from being a management trainee to becoming head of team in the manufacturing arm of the business.
My factory produces food drinks . . . a cocoa based beverage. The brand my factory produces is a leading brand in Nigeria with about 50% market share.

My factory has 650 non-management staff and 9 management staff. The management staff include three maintenance engineers and six operations managers. The maintenance engineers and operations managers report to me directly. And the 650 staff work with my direct reports.
Think about it. Six hundred and fifty nine people!
That is a crowd. In fact, my factory is the largest and oldest factory in my company.
Fortunately, I have led these wonderful people from success to success. It has been one victory after another. And, believe me, the best is yet to come.
Managing 659 people successfully is no easy task. I certainly know something about leadership. And I built this site to share that knowledge with you . . . FREE.
Why People Fail
I have seen people succeed. I have also seen people fail.
Why do some fail while others succeed?
It's not due to lack of persistence or determination. It's mostly due to lack of leadership skills . . . the critical all important ingredient for personal and business success.
You may not believe it but . . . leadership is everything.
People fail or succeed because of their ability to harness the potentials of their people and channel it in the direction they wish to lead the company.
I built this site because I'm tired of seeing people fail. I want more and more people to succeed at what they do.
Leadership failure is a dangerous thing. It's dangerous for the individual, his family, and the organization.
May that never happen to you!
I can help you.
Read this site thoroughly and grasp the depth of the message. Understand the concepts and apply them diligently. You will succeed. I have succeeded as a leader using the same strategies. Nothing can stop you from winning the leadership game.
Feel free to Contact me if you need personal assistance.
P.S. Thinking of building a web site? I built this site using an online business software called Site Build It! (SBI!). I highly recommend you use Solo Build It! too. It's pretty simple to use.
Back To Home Page From About The Author Subscribe To The Leadership Advisor Newsletter